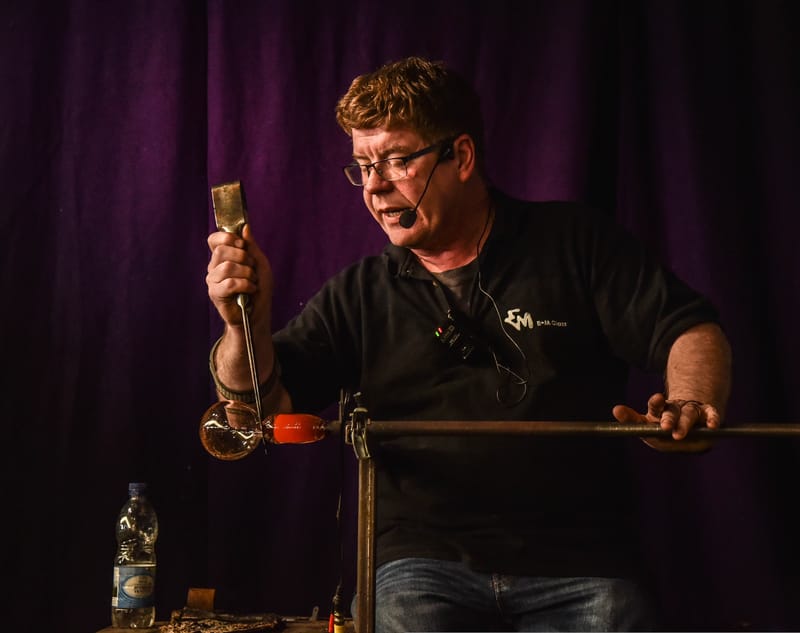 Disclaimer
Glassblowing taster sessions at E&M Glass Ltd.
E&M Glass offer a number of experiences within the glassblowing studio environment.
We make safety and wellbeing our highest priority but in order to participate in one of our glassblowing taster sessions you must agree to a number of conditions stated below.
These conditions apply to all our sessions listed below:
-Short Taster
-Basic Taster
-Group Session
-One to One
Your obligations
You will follow instructions provided by the instructor at all times.
Do not operate any of the tools or equipment without the expressed permission of the instructor and under their supervision.
If you feel unwell or nervous at any time please let your instructor know.
By signing below, you agree that any spectators you have brought are subject to all of the conditions herein.
You will not, at any time be under the influence of alcohol/ any drugs which may impair your ability to participate.
You will be responsible for the safe keeping of any property you bring with you.
Please declare any existing injury &/ or medical conditions which you feel may affect your ability to participate fully in the session. If nothing is indicated you are declaring yourself fit and able to participate in all activities.
Any person who is pregnant may also be limited in the activities they can undertake.
Our Rights
At our discretion, and at any time, we may decline or terminate your attendance to the session.
We reserve the right to amend, or withdraw, the active session without prior notice.
Restrictions
While our sessions do not strictly have an upper or lower age limit no child under the age of 16 or vulnerable adult can be left unsupervised.
Understanding must be given in all circumstances wherein the instructor feels it inappropriate for any given participant to partake in specific actions or techniques. In these instances, any and all adaptations will be considered by the instructor and must be accepted by the participant and/ or their guardian.
Liability
Your safety is our highest priority but understand the potential risks to yourself when participating in a glassblowing taster session. By participating in a session, you accept that you share the responsibility to maintain your own safety and that of others by your actions/ conduct.
We shall in no circumstances by liable to you to the extent that any liability arises due to your non-compliance with these conditions or your obligations.
We will not be liable for any loss of, or damage to any property that you bring with you.
Acknowledgement & Understanding
By purchasing a ticket/voucher for a course this indicates that you understand and agree to be bound by the above terms and conditions.
By reading this disclaimer, any photographs taken during the session may be used for future marketing and promotional purposes.